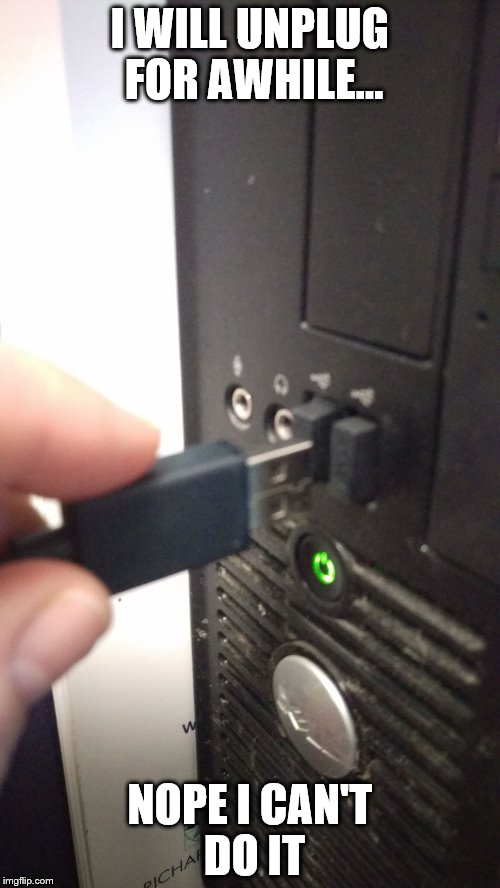 I believe the final debate of  We have become too dependent on technology and what we really need is to unplug was one that probably hit home for each and every member of the course.  In education we have been encouraged to imbed various means of technology into our classrooms and we have done the same in our personal lives as well.  My wife often reminds me that I stated "I will never need a cell phone, never had one as a kid and I survived".  Well I may be one of those people that feels lost without that little device in my hands or in my pocket.  That little Samsung Galaxy Note is my phone and my computer – it is my portable little office.  Being an administrator I need access to my phone and computer at all times – I need to respond to important emails, I need to communicate with staff if emergencies arise (accidents, sickness, needs for subs, etc.), and it has my calendar of events.  Without this little device it would be hard to do my job so effortlessly – could I survive without it…maybe, but it sure makes the job a lot easier.
So unplug from technology?  I don't think I can do it, actually I don't believe I need to or want to.  Technology has become an important part of my live and the lives of my family.  We rely heavily on many types of technology, for things that we deem make our life "normal" or more "easy" to manage.  But we do need to use these various technologies in moderation and for a specific purpose.  Do we need to unplug? Nope but we can take the time to enjoy the company of others and have face to face interactions.  I even find in my own home – that we need to do this – we need to "Look Up".
Taking the time to "look up" is very important but that does not mean we have to unplug and do away with the technology that we see has beneficial to our lives.  According to the article by Casey Cep even Pope Benedict XVI sees the benefits associated with being connected by technology.  Since I'm Catholic I'm listening to him. Cep also states that the whole unplug movement seems to be a an escape from the reality that the world is today… technology is part of today's world.  There are so many positives associated with technology – many things that make our life better.  As in article by Nicole Arce – there are even apps that can make us healthy and help us reduce stress and anxiety.  There are so many other things that bring people together such as Twitter. We need to embrace it and learn to accept that these are part of our lives.  But as we have all stated in numerous posts – its about moderation and knowledge.  We have to use it when necessary and know that like anything in life there can be risks.  We can look at past debates where we focus on discussions about digital citizenship and digital footprints – we all know that we must have an understanding of these.  With knowledge comes proper behavior – we must realize that technology is part of our lives and we must know how to use it.  With that said, the technology of today will seem as odd as the new technology of the past.  I remember when we got our first color TV and how that was so amazing.  Or when they came to hook up cable and we went from two channels to twenty some.  But in today's standards of technology that is nothing… I couldn't even tell you how many channels I have with my Bell dish.  It just goes to show us that technology changes and we change with it.  What seems like it is something new and even negative.. years from now it usually is old and positive.